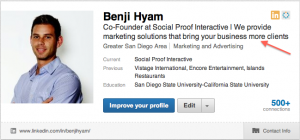 Does your LinkedIn profile POP? Or do you feel like it may be mundane? A unique and eye-catching LinkedIn profile could mean the difference between a job achieved! Or an opportunity lost 🙁
One component of your LinkedIn that is more important than you think: Your headline! Did you know that you can change your headline? It does not need to be the most recent position you hold. You can write many different types of headlines. I have included some various types of headlines, and how they may work for you:
"Veteran Talent Specialist | Career Strategist | Employer Partnerships"

This type of headline showcases what you do, divided into three district categories. It is succinct and to the point, and can help employers understand the numerous responsibilities you may have under one job title.

"Veteran Talent Specialist: Connecting the best Military talent to the best opportunities' every day!"

This type of headline is a fun way to tell the viewer what you do and show your impact. It is more informal and focuses on one overreaching role you may have, and the result you focus on in your work.

"Veteran Talent Specialist, Marathon Runner, Dog Rescuer, Champion Scrap booker!"

This headline dives into your interests well as your professional identity. It is very informal, but it showcases your personality, which can be beneficial in many industries. If you are seeking a position that is high in soft-skills (retail, customer service, recruiting, outreach, sales) this is a headline that shows employers that you work hard and play hard.

"Veteran Talent Specialist | Professional Career Coach | Connecting Veterans with Opportunities through Networking and Corporate Partnerships"

This headline is a combination of the first and second examples. It is clear and concise, and begins with two position duties, while speaking to the focus of your role. It is the best for branding purposes, as it showcases both your brand (who you are), and your product (the services you offer).

"Seeking Opportunities in Career Counseling and Non Profits"

This headline shows that you are a job seeker! It is not my favorite version, but it gets the message out there that you are looking actively. Many recruiters source candidates directly through LinkedIn (yes, right?!) and when they search for people they could filter to try and find candidates with this headline specifically. It may be ideal for current students, or transitioning job seekers.
No matter what headline you choose, make it unique to you! For more information on different headlines, you can read about different versions in this article or this article.
Cheers,
Maggie